Musick International - FixIT Professional FAQ's
Home | Download Area | Price List | Support Center | FAQ's
---
Frequently asked Question Topics:
---
Installing FixIT Professional on Windows 10/8/7
1) Download and save FixIT Pro install from our website. Do not run the installation from the website.
2) After downloading, right click on the download and "Run As Administrator".
3) Select a different default installation folder. "C:\FixITcc"
4) On the initial startup of FixIT, go to the folder where FixIT is installed and "Run As Administrator".
5) If you receive the Run-time error 339 - "Component COMCT332 is missing", run this Microsoft install ComCt332.ocx

---
Running DataCheck or FixIT Professional on Server 2003
DataCHECK or FixIT Professional require the installation of the MS Common Controls for installation on MS Server 2003. Download and install the MS Common Controls. This is a Microsoft install. Click here to download.
---
Invalid Serial Number Format message
During Registration of FixIT Professional you receive the following Error message. "Invalid Serial Number Format. Re-enter Serial number."
FixIT Professional is expecting a formatted serial number. Place your serial number into the following format "x-xxxxx". ( example: your serial number is F12345, Formatted serial number would be F-12345 )
If you receive this error: "FixIT/DataCHECK settings file (FixITcc.ini) not found", try the following:
1) Install and launch FixIT/DataCHECK using "Run as Administrator"
2) Copy the FixITcc.ini file to the location specified in the message.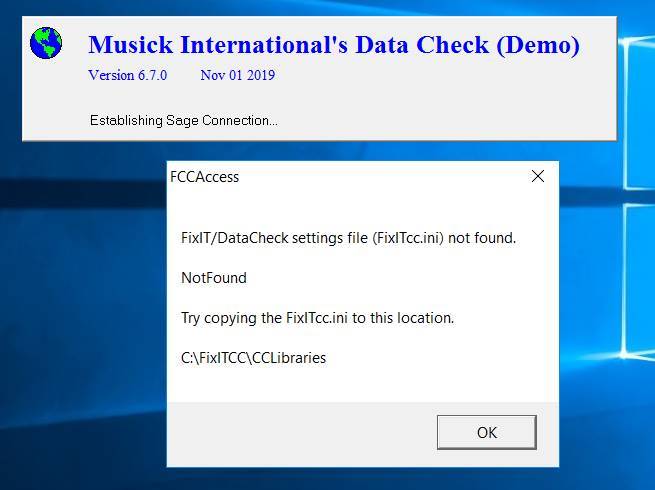 Sum of ICIVAL does not match ICILOC
Sage 300 Inventory Data Integrity reports this error in Location Details:
Location Details
Location Details: A1/103/0, 1
E: The sum of ICIVAL.STKQTY for item A1/103/0 at location 1 does not match ICILOC.QTYONHAND.
E: The sum of ICIVAL.TRANSCOST for item A1/103/0 at location 1 does not match ICILOC.TOTALCOST.
This repair is part of FixIT Professional, but you need to turn on the validation and tell FixIT how to repair the error.
Start FixIT Pro
On the left toolbar select "Settings"
Then select the "Application Phases" tab
Then select the "IC" tab at the bottom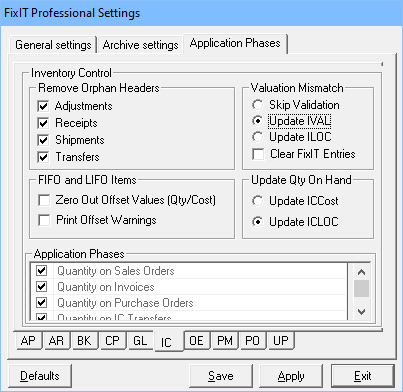 In the "Valuation Mismatch" box, select "Update IVAL" (this is usually correct). If the client would like the Location details updated instead of Item Valuation, select "Update ILOC".
Click "Save"
Then run the FixIT Pro "Validation" on Inventory Control - "Repair" and only the "Run Application Phase"
Create a previous fiscal year in Sage General Ledger
So the Sage General Ledger has been created and the client now tells you they need to add opening balances to the previous year.
You could delete the database and start over, or let FixIT create the previous year for you.
1) Use FixIT Editor and create the previous year in the Sage Fiscal Calendar. Modify CSFSC
2) Use FixIT Editor and modify the GL01 (GL Options) and change the YRLSTACTL to be the previous year
3) Run FixIT Validation on GL application phase. FixIT will detect the missing data and add the previous fiscal year to the chart of accounts.
---
Home | Download Area | Price List | Support Center | FAQ's
FixIT, FixIT Plus and FixIT Professional are trademarks of Musick International, Inc. All other products mentioned are registered trademarks or trademarks of their respective companies.

Questions or problems regarding this website should be directed to support@musick-int.com.
Copyright © 2020 Musick International, Inc. All rights reserved.
Last modified: November 2019